Rent a Dumpster or a Roll-off Container
Fill out the form below for a quick dumpster rental quote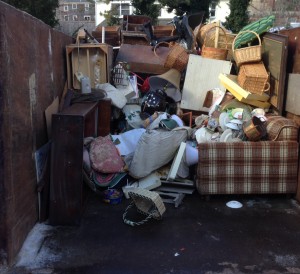 If you are going to do a clean out or home improvement project, get a roll-off dumpster to throw all your waste in and have it hauled away. This will give you more time to focus on the project at hand without having to worry about how you are going to get all that stuff to the dump and deal with dump fees.

Regardless of the size and nature of your project you can find a roll off container or dumpster to fit your needs. Most dumpster rental companies on Cape Cod offer several different sizes of roll-off containers and dumpsters. 10 yard, 15 yard, 20 yard, 30 yard and 40 yard roll-off containers and dumpsters are available on Cape Cod.
Keep in mind that many companies that rent roll-off containers on Cape Cod do not take household garbage. If you have quite a bit of household garbage, you will probably need a trash collection service and not a roll-off dumpster.
If you are looking to get rid of landscape waste like brush, stumps and leaves make sure you specify that. Most dumpster companies do not want mixed waste in their containers. Like household junk and landscape debris mixed in one container. You may need to order separate containers for different types of waste.
Dumpster sizes:
How big is a __ yard dumpster?
10 yard dumpster – 12'L X 8'W X 4.5'H
15 yard dumpster – 14'L X 8'W X5'H
20 yard dumpster – 22'L X 8'W X 4.5'H
30 yard dumpster – 22'L X 8'W X 5.5'H
40 yard dumpster – 22'L X 8'W X 7'H
Types of waste and projects that may require renting a roll off dumpster:
Residential & Commercial C&D Debris
Construction Material
Demolition
Remodeling
Household Junk
Yard Waste
Attic or Basement Clean outs
Moving Clean outs
Construction
Renovations
Installing hardwood floors
Replacing a deck/patio
Remodeling kitchen or a bathroom or tackling another home improvement project
On most containers and roll-off dumpsters the top is open and there is a door at one end making it easy to load your refuse. Some waste collection companies also offer portable toilets for use on construction sites. They may also offer on site storage containers for temporary storage during construction or clean outs.
There are restrictions on the disposal and transfer for disposal of certain hazardous and recyclable items at solid waste facilities in Massachusetts. (See the MA State Solid Waste Facility Management Regulations, 310 CMR 19.017).
The following items are banned and can not be disposed of in containers or dumpsters:
(you may be subject to additional handling fees if any of these items are found)
CFC Items: Including but not limited to refrigerators, air conditioners, dehumidifiers
Cathode Ray Tubes (CRT): televisions and computer monitors
White Goods: Appliances refrigerators, freezers, dishwashers, etc…
Batteries: batteries used in motor vehicles
Whole Tires: Motor vehicle tires
Propane Tanks
Mattresses/Bulky Waste
** NO HAZARDOUS MATERIALS **